Our vision is the global Church equipped to effectively build God's Kingdom together.
The Evangelical Center serves as a center for global evangelical missions, a space for evangelicals to meet, educate and collaborate and an innovative resource hub to equip churches around the world in the hope to build God's Kingdom on earth.
We believe in:
The Holy Scriptures as originally given by God, divinely  inspired, infallible, entirely trustworthy; and the supreme authority in all matters of faith and conduct.
One God, eternally existent in three persons, Father, Son and Holy Spirit
Our Lord Jesus Christ, God manifest in the flesh, His virgin birth, His sinless human life, His divine miracles, His vicarious and atoning death, His bodily resurrection, His ascension, His mediatorial work, and his personal return in power and glory.
The Salvation of lost and sinful man through the shed blood of  the Lord  Jesus Christ by faith apart from works, and regeneration by the Holy Spirit.
The Holy Spirit by whose indwelling the believer is enabled to live a holy life, to witness and work for the Lord Jesus Christ.
The Unity of the Spirit of all true believers, the Church, the Body of Christ.
The Resurrection of both the saved and  the lost; they that are  saved unto the resurrection of life, they that are lost unto the resurrection of damnation.
Statement of Faith by the World Evangelical Alliance.
Christ-centered
John 14:6; Acts 4:12; 1 Corinthians 3:11
Prayer-filled
Isaiah 56:7; Philippians 4:6; 1 Thessalonians 5:16-18
Kingdom-minded
Matthew 6:10; Luke 9:2; Romans 14:17-18
Unity-focused
John 17:20-23; 1 Corinthians 12:12-27; Ephesians 4:15-16
Hospitality-oriented
Romans 12:13; Hebrews 13:1-2; 3 John 1:8
What started with a vision for a global center for evangelicalism was fulfilled on December 10, 2010 when World Olivet Assembly together with the World Evangelical Alliance (WEA) dedicated the Evangelical Center in Binghamton, NY.
"For the first time since its establishment over a century ago, the World Evangelical Alliance now has a center to gather and unite Christian leaders from around the globe with the establishment of a new facility in upstate New York," the Christian Post reported at the time.
Described as "a study center, research center, conference center, a place to engage in strategic thinking, and a place of personal and corporate renewal," then-Secretary General of the WEA Dr Geoff Tunnicliffe emphasized his hope that it would especially be a place of prayer: "in all the activities that we will be engaged in this place, that will become the most strategic because that's what Jesus asked us to do: pray for his Kingdom to come."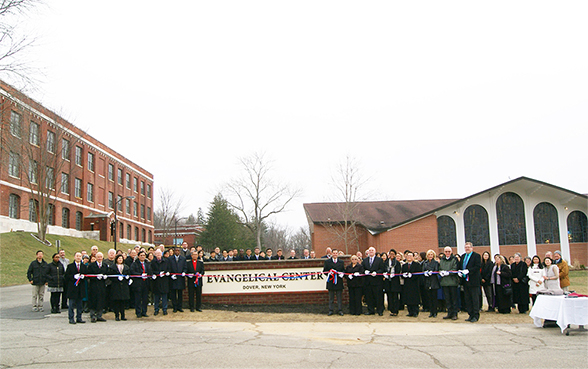 In the beginning of 2016, the Evangelical Center moved to its new home on Olivet University's campus in Dover, NY, just sixty miles north of New York City. The inauguration service was attended by evangelical leaders from around the world who expressed their hope for the Center to become a place of synergy and collaboration, where ideas and stories can be exchanged and where godly leaders can strategize how to expand the Kingdom of God.
Spanning some 1,000 acres (4 km2), it features more than 70 buildings and is currently home to an global office of the WEA. It has hosted meetings, conferences and training programs aimed at encouraging unity and collaboration within the diverse global family of evangelicals and equipping the next generation of leaders.
Looking ahead, the Evangelical Center envisions to become a place of innovation that supports global missions and equips the Church with relevant resources for evangelism, and information and tools to respond to issues of concern to the Church, such as religious persecution and human trafficking, among others.
Evangelicals globally are incredibly diverse and vibrant people of faith! They are bound together by spiritual convictions that they consider 'non-negotiable', while acknowledging a wide variety of expressions in non-essential matters, such as their style of worship.
Evangelicals emphasize the importance of an individual and personal relationship with God that is not defined by any political, cultural or social association, nor automatically given by way of nominal membership of any specific denomination.
Instead, evangelicals are recognized by their high regard for the Bible as the Word of God that guides their daily lives; the conviction that salvation is only received by faith through Jesus Christ who died on the cross and was resurrected to life; that God is triune as Father, Son and Holy Spirit; and a few other core beliefs as found in WEA's Statement of Faith.
Finally, evangelicals want to share the Good News (in Greek: evangelion) of Jesus Christ with others, serve those who are in need and speak up for the marginalized. Their highest commandment is to love God, and to love their neighbor as themselves.