This past week, the World Evangelical Center (WEC) served as host venue for a week-long leadership training for emerging youth leaders. With the theme "Be Shepherds of God's Flock" inspired by 1 Peter 5:2, the program was held at Fides Hall and Immanuel Chapel with meals provided at the Clubhouse.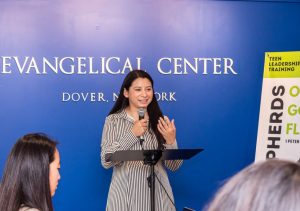 Organized and led by WEC Youth Director Amanda Garcia, the training featured Bible studies focused on the letter to the Romans and leadership lectures taught by experienced leaders from different Christian ministries. These were followed by Q&A sessions that allowed more personal interaction to hear about the speaker's life journeys and personal testimonies how they found faith in Jesus Christ and how their faith influenced the way how they lead.
Meal fellowships, praise & prayer times, and various outdoor activities provided ample opportunities to deepen the young leaders' relationship with God and with each other. The program concluded with a ceremony where each participant received a certificate of completion.
"This week-long intensive program with a group of emerging youth leaders allowed them not only to gain a lot of wisdom for their lives and future leadership roles through the Bible and the lectures, but they could also grow closer together through this experience," Garcia commented.
"We plan to hold more of these programs in the future to raise the younger generation into Christian leaders whose focus is on Jesus Christ and shepherding His flock in truth and love," she added.