Dover, NY – June 22, 2017
Earlier this month, the World Evangelical Alliance (WEA) kicked off the pilot run of its Fellowship of Emerging Leaders (FEL) program hosted at the Evangelical Center in Dover, New York. The 12-week program that runs from June 6 to August 25 will equip younger leaders from different countries to serve more effectively in their respective National Evangelical Alliances. It is a unique opportunity for them to capture a global vision of the Evangelical Alliance and its transforming impact at the local level.
This year's FEL participants have come from Burkina Faso, Ghana, Guinea, Madagascar, Myanmar, and Sri Lanka, with two more still expected to arrive from India and Pakistan. Together with New York-based WEA staff who are themselves all from different nations, they will make up an international group coming from 14 countries.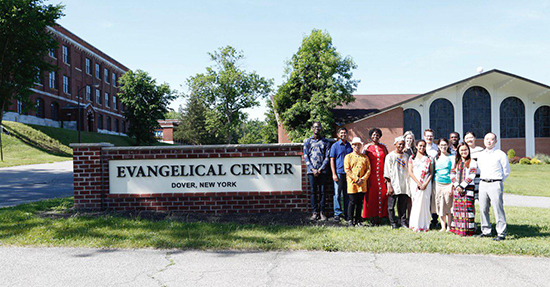 FEL participants with WEA staff at the Evangelical Center in Dover, upstate NY.
"I am very excited to see this training program where emerging leaders from diverse backgrounds are coming together with a desire to become more effective servants in God's Kingdom," said Bp Efraim Tendero, Secretary General of the WEA. "For a number of years, we have heard from our constituency that empowering and training younger leaders is a critical need in order for Evangelical Alliances to thrive and be relevant in their response to the needs of the Church and the world. The FEL program is specifically designed to address this need and I look forward to seeing this first group of young men and women become strong leaders for their nations."
The FEL program features lectures by experienced Alliance leaders and others who contribute their insights into what it takes to be an effective leader. Participants also serve as interns within one of the different departments of the WEA, such as Alliance Development, Public Engagement, Admin & Finance, Communications & Membership where they gain hands-on experience working alongside WEA leaders and staff. They also have an opportunity on two afternoons to work in small teams on projects of their choice that aim to serve the Evangelical Alliances in their respective countries.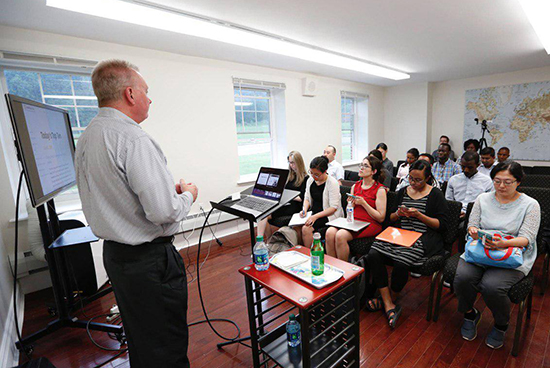 The first lecture on "The Leader as a Life-Long Learner" was delivered by Dr. Ralph Enlow, President of the Association for Biblical Higher Education (ABHE).
Also part of the program are several exposures that are planned to New York, the United Nations Headquarters, and a three day trip to Washington D.C. which includes visiting the office of the National Association of Evangelicals and the Christian Media Corporation where they will receive media training, among other highlights.
Participants are already expressing their excitement of being part of the FEL2017: "The first two weeks have been amazing. I've never been in a room of people this diverse in my entire life," Samuel from Ghana said. Monroe from Sri Lanka commented: "It has been an awesome experience and I'm enjoying every bit of it." "The FEL is challenging, exciting and interesting," said Samanali, also from Sri Lanka. And Nancy from Myanmar shared: "I'm expecting to learn a spiritual life style, learning through practicing and hearing how other Evangelical Alliances are working. The time up to now has already been so exciting and I had so much fun."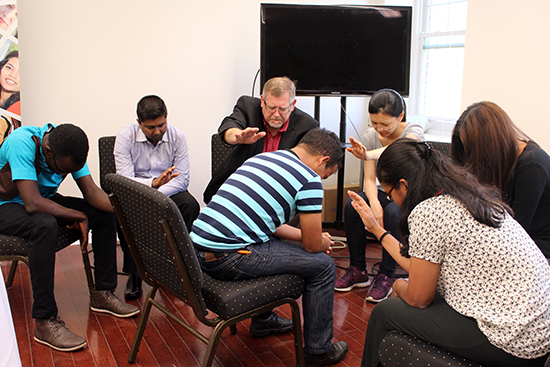 Spiritual formation is another important aspect of the FEL program, with devotions each morning and prayer times to support each other and pray for current global issues, such as this week's World Refugee Day.
Dr. Rob Brynjolfson, Director for Leadership Development who heads up the training said: "This program is a dream come true and the result of collaboration of our New York staff and the generous support of Olivet University, one of our Global Partners, allowing us to house and feed the participants at the Dover campus. The FEL program helps younger leaders gain experience at a global level and capture a vision for the transforming impact Evangelical Alliances may have on their countries and regions."
"It is now our intention to offer more sessions and in this way influence future generations of younger leaders from our national Alliance members around the world," he added and said: "Please pray for God's blessing and protection on all the participants and staff involved in the program, and that their time together will be of lasting benefit for their personal and professional lives."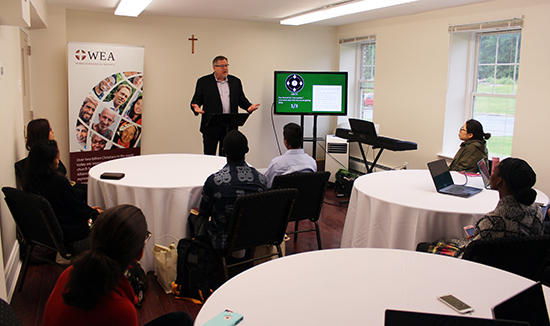 Dr. Rob Brynjolfson's message at the FEL opening service titled 'One Another' focused on the community aspect of the onsite training program, which will become a valuable experience for life.
To learn more about the Fellowship of Emerging Leaders program, visit wea-fellowship.org. Also follow the FEL2017 Facebook page to see news & pictures and get a taste of the participants' experience!
###
MEDIA CONTACT:
[email protected]
+1 212.233.3046
Over two billion Christians in the world today are represented by three world church bodies. The World Evangelical Alliance (WEA) is one of those, serving more than 600 million evangelicals. Launched in 1846 to unite evangelicals worldwide, the WEA continues to be a dynamic movement with 7 regional and 129 national Evangelical Alliances, and over 150 member organizations. WEA's mission is to establish and strengthen regional and national Evangelical Alliances, who in turn enable their national Church to advance the Good News of Jesus Christ and effect personal and community transformation for the glory of God. For more info, e-mail [email protected] or go to Worldea.org.
Originally published by the World Evangelical Alliance at https://worldea.org/news/15331/wea-pilots-fellowship-of-emerging-leaders-program-at-the-evangelical-center/